12 Julai 2021 | YAA Dato' Setia Dr. Hj. Mohd Na'im bin Hj. Mokhtar, Ketua Hakim Syarie/Ketua Pengarah JKSM hari ini diberi penghormatan menjadi salah seorang ahli panel di dalam '8th Family Law & Children's Rights Conference: World Congress 2021 Through the Eyes of a Child' yang dijalankan secara dalam talian sejurus selepas beliau mempengerusikan Mesyuarat Pengurusan JKSM.
Konferen antarabangsa yang dijalankan selama 5 hari ini memfokuskan tentang undang-undang kekeluargaan, proses undang-undang yang dilaksanakan serta hak kanak-kanak yang telah diperuntukkan di dalam undang-undang.
Konferen ini juga merupakan platform bagi peguam, hakim, ahli akademik, ahli psikologi, ahli perubatan dan badan bukan kerajaan dari seluruh dunia bagi berkongsi pengalaman dalam isu melibatkan hak asasi kanak-kanak dan undang-undang kekeluargaan.
YAA Dato' Setia Dr. merupakan panel sesi keempat bersama 3 ahli panel yang lain iaitu Fitria Villa Sahara (Co-Director Pemberdayaan Perempuan Kepala Keluarga (PEKKA), Female-Headed Family Empowerment Organisation), Leisha Lister (Senior Adviser, Australia Indonesia Partnership for Justice) dan Justice Judy Ryan (Appeal Division, Family Court of Australia) di mana mereka membicarakan tajuk "Marriage Dispensation Cases in Indonesia and Malaysia – Determining the Best Interests of the Child".
Dalam forum tersebut, YAA Dato' Setia Dr. menggunakan kesempatan yang diberikan bagi menerangkan terlebih dahulu tentang sistem perundangan yang terdapat di Malaysia iaitu undang-undang sivil dan undang-undang syariah terutama perincian dari segi bidang kuasa undang-undang yang diperuntukkan oleh Perlembagaan Persekutuan.
YAA Dato' Setia Dr. turut berkongsi tentang fungsi JKSM yang ditubuhkan oleh kerajaan bertujuan menyeragam dan menyelaras pentadbiran kehakiman syariah di Malaysia termasuk usaha dalam membina SOP Pernikahan Bawah Umur untuk diselaraskan dan gunapakai oleh mahkamah syariah di Malaysia.
Turut dikongsi adalah tatacara dalam pengendalian kes permohonan nikah bawah umur seperti penggunaan laporan perubatan dan laporan psikologi serta elemen-elemen yang dinilai oleh mahkamah dalam membenarkan permohonan penikahan bawah umur di Malaysia.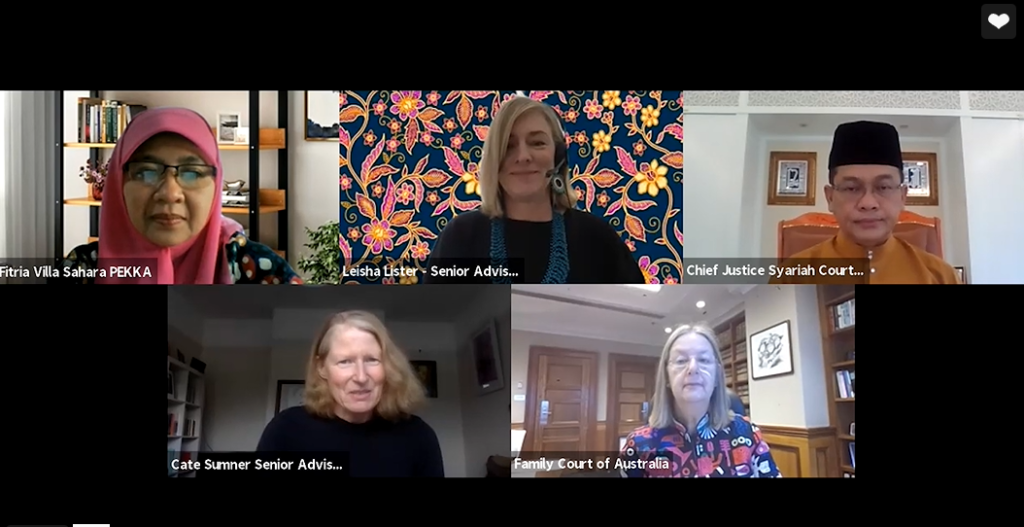 Last Updated on Disember 22, 2021