26 Julai 2022 | YAA Dato' Setia Dr. Hj. Mohd Na'im bin Hj. Mokhtar, Ketua Pengarah/Ketua Hakim Syarie petang ini telah dijemput sebagai pembicara di dalam Child Rights Committee (CRC) Webinar On The Family Support Division Services Of The Malaysian Syariah Judiciary anjuran Bar Council Malaysia.
Webinar yang dimoderatorkan oleh Puan Fahda Nur Ahmad Kamar (Peguambela & Peguamcara) ini bertujuan membicarakan tentang pengoperasian Bahagian Sokongan Keluarga (BSK) di mahkamah syariah dan bagaimana model tersebut dapat diaplikasikan di mahkamah sivil.
Kesempatan ini di ambil oleh YAA Dato' Setia Dr. untuk menerangkan tentang peranan dan fungsi Bahagian Sokongan Keluarga (BSK) yang diwujudkan oleh JKSM bagi membantu menyelesaikan masalah penguatkuasaan nafkah di kalangan para suami yang culas.
YAA Dato' Setia Dr. turut menerangkan tentang sejarah penubuhan BSK selain pengoperasian tiga unit utama BSK iaitu Unit Khidmat Nasihat Perundangan (UKNP), Unit Penguatkuasaan & Pelaksanaan Perintah (UPPP) dan Unit Pengurusan Dana (UPD).
Tambah YAA Dato' Setia Dr., pelbagai inisiatif sedang dijalankan oleh BSK termasuk mendapatkan maklumat penghutang penghakiman dengan kerjasama pelbagai agensi seperti JPN, KWSP, SKMM, LHDN, Syarikat Telco dan e-Census dalam usaha mengurangkan jumlah kes-kes nafkah yang tertunggak.
YAA Dato' Setia Dr. juga berkesempatan berkongsi tentang pelaksanaan perintah Hiwalah di mana satu mesyuarat telah diadakan bersama Bank Negara Malaysia pada 20 Julai 2022 yang lalu bagi membincangkan beberapa persoalan yang berbangkit daripada pindaan perintah Akta Perkhidmatan Kewangan 2013, Akta Perkhidmatan Kewangan Islam 2013 dan Akta Institusi Kewangan Pembangunan 2002 yang telah mengiktiraf perintah hiwalah yang dikeluarkan oleh Mahkamah Syariah.
Webinar yang dijalankan secara dalam talian melalui platform zoom ini dihadiri oleh ahli-ahli Majlis peguam dan ahli-ahli pertubuhan bukan kerajaan (NGO) selain dipancarkan secara langsung menerusi FB Page Malaysia Bar.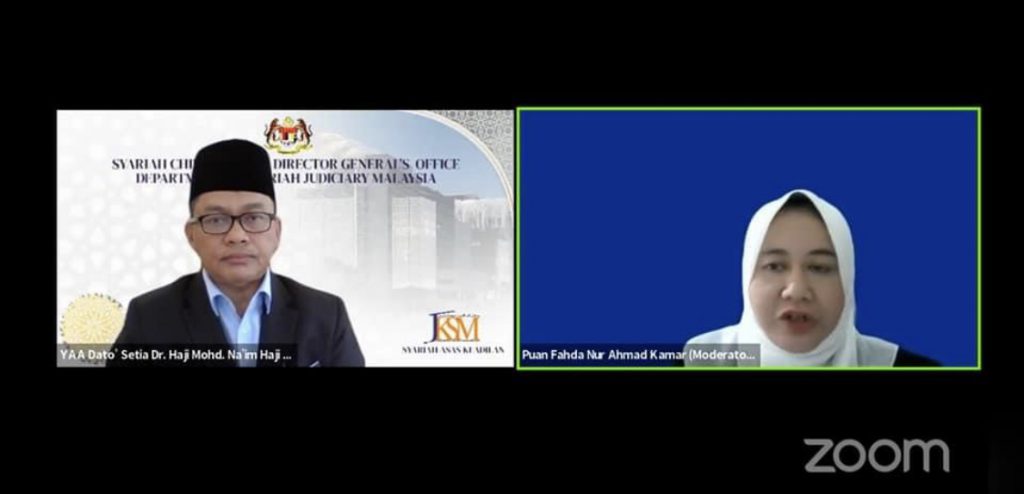 Last Updated on Julai 26, 2022