Putrajaya, 19 Oktober 2022- YAA Dato' Setia Dr. Hj Mohd Na'im Haji Mokhtar, Ketua Pengarah/Ketua Hakim Syarii JKSM beserta 10 orang pegawai dan kakitangan menghadiri Perhimpunan Agensi dan Majlis Apresiasi Menteri di Jabatan Perdana Menteri (JPM) anjuran bersama Jabatan Wakaf, Zakat dan Haji (JAWHAR) serta Yayasan Wakaf Malaysia (YWM).
Perhimpunan ke-7 ini merupakan perhimpunan terakhir YB Senator Datuk Haji Idris Ahmad sepanjang 14 bulan beliau memegang portfolio sebagai Menteri di Jabatan Perdana Menteri (Hal Ehwal Agama).
"Sebanyak 208 program dilaksanakan dengan pencapaian 100% Key Performance Index (KPI). Begitu juga pelbagai program 'Quick-Win' dilaksanakan seperti Pelan Intervensi Agensi Agama mendepani COVID-19 (PIAGAM C-19), Pelan Strategik Hal Ehwal Agama 2022-2026, Penubuhan Pusat Penyelidikan Hadith, Perbincangan Meja Bulat Pelaksanaan Konsep Pampasan dalam Islam (Diyat) dan sebagainya," ujar YB Menteri.
"Bagi menyahut gagasan Keluarga Malaysia, Pelan Inisiatif Lelaki Qawwam dilancarkan bagi memberi kesedaran kepada kaum lelaki mengenai tanggungjawab yang sepatut digalas selaku ketua keluarga," tambah beliau lagi.
Bagi membantu masyarakat, sebanyak RM305,858,877.41 bantuan diagihkan sepanjang September 2021 hingga September 2022 kepada golongan asnaf, B40 dan mereka yang terkesan akibat Covid-19 dan lain-lain musibah yang menimpa masyarakat.
Bertepatan dengan isu sekuriti makanan yang melanda seluruh dunia pula, maka Wakaf Pertanian Bersepadu (Watani) serta Program Bijaktani Hidroponik PPR diperkenalkan yang diharapkan dapat dikembangkan ke seluruh negara.
"Sementara itu, bagi mempertingkatkan sistem penyampaian institusi kehakiman syariah di Malaysia, pelbagai langkah telah diambil antaranya penubuhan Jawatankuasa Pemerkasaan Mahkamah Syariah, penguatkuasaan Akta Profesyen Guaman Syarii 2019 di Wilayah Persekutuan, penyediaan Rang Undang-undang (RUU) Mahkamah Syariah (Bidangkuasa Jenayah) RUU 355, RUU Mufti dan RUU Mahkamah Syariah Wilayah Persekutuan," jelas beliau lagi.
Di akhir ucapan, YB Menteri menyampaikan tujuh amanat sebagai bekalan kepada warga agensi agama seperti berikut:
– Bekerjalah kerana Allah. Niat yang ikhlas memberikan kekuatan dalaman kepada diri;
– Gerakkan dakwah bil hal melalui tugasan cemerlang;
– Jagalah imej dan akhlak diri kerana agensi kita membawa nama Islam;
– Jaga integriti dan amanah dalam mengurus jabatan;
– Sentiasa pantas dan tangkas dalam tindakan;
– Bekerja dengan semangat ukhwah dan kekeluargaan; dan
– Jaga kesihatan diri dengan amalan hidup sihat.
Perhimpunan ini juga menyaksikan pelancaran portal penerbitan baharu JAWHAR, pelancaran buku Pioneers of the Theory of Maqasid al-Shariah, penyerahan cek cura peruntukan khas kerajaan Persekutuan bagi penyelenggaraan dan naik taraf institusi-institusi pendidikan Islam serta penyerahan cek cura agihan dana wakaf tunai dari Yayasan Wakaf Malaysia kepada tiga agensi iaitu Fakulti Pergigian, Universiti Malaya, Sekolah Rendah Islam Tahfiz Integrasi Fateh, Pahang dan Sekolah Menengah Agama Labu, Negeri Sembilan.
Kemuncaknya, sidang hadirin dipaparkan dengan ucapan penghargaan daripada 14 orang ketua jabatan yang turut menzahirkan kualiti YB Menteri yang menjadi tauladan bagi kepimpinan cemerlang.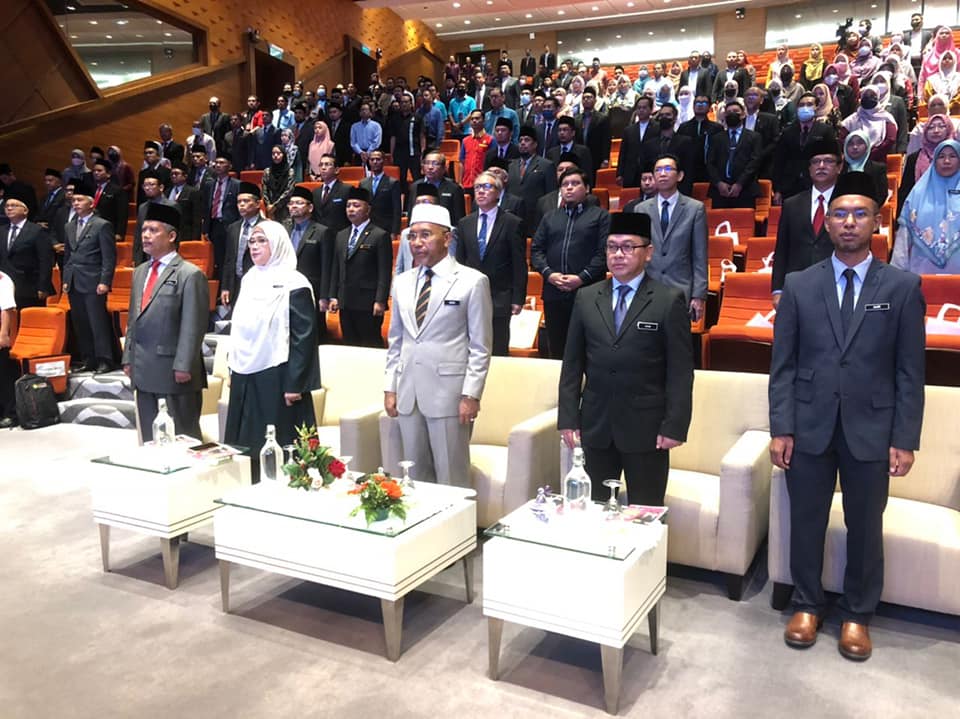 Last Updated on October 19, 2022