27 Julai 2022| YAA Dato' Setia Dr. Haji Mohd Naím bin Haji Mokhtar, Ketua Pengarah/Ketua Hakim Syarie JKSM telah diundang sebagai tetamu kehormat dalam Majlis Dialog Yudisial Mahkamah Agung Ri dan Fcfcoa Perlindungan Hak Perempuan dan Anak dalam Perkara Perceraian yang diadakan secara hybrid anjuran Mahkamah Agung Indonesia bersama Family Court of Australia.
YAA Dato' Setia Dr. juga turut diberi penghormatan bagi membentangkan tajuk "Syariah Court Malaysia on Hajj Fund" kepada semua para peserta yang hadir dalam majlis dialog tersebut.
YAA Dato' Setia Dr. telah mengupas dengan lebih mendalam tentang 'Prinsip Keadilan Dalam Islam', 'Falfasah Kehakiman Islam' dan 'Pelaksanaan Hiwalah' dalam menguatkuasa dan melaksanakan perintah/penghakiman yang diperolehi daripada Mahkamah dalam sesi pembentangan berkenaan.
Hilawah misalnya merupakan salah satu tindakan yang boleh diambil bagi menguatkuasa dan melaksanakan perintah nafkah yang dikeluarkan oleh mahkamah syariah. Ia adalah peruntukan khusus yang memberikan kuasa kepada Mahkamah Syariah untuk memerintahkan pihak ketiga (muhai 'alaih) bagi menahan harta penghutang penghakiman untuk dibuat pembayaran kepada pemiutang penghakiman (isteri/ bekas isteri) setakat amaun yang tertunggak.
Untuk rekod, pada Mac 2022, YAA Dato' Setia Dr. telah mencadangkan agar akaun pendeposit Tabung Haji (TH) yang culas membayar tuntutan nafkah kepada bekas isteri dan anak-anak dibekukan. Langkah itu bertujuan memastikan setiap pendeposit yang juga bakal jemaah haji bebas daripada sebarang hutang terutama hutang tuntutan nafkah.
Cadangan tersebut telah disambut baik oleh pihak Tabung Haji dalam perbincangan lanjut antara YAA Dato' Setia Dr. dengan pihak Tabung Haji.
Turut hadir dalam majlis dialog hari ini ialah Ketua Mahkamah Agung Indonesia, YM. Prof. Dr. H.M Syariffudin; Deputy Head of Mission to Indonesia Austalian Embassy, Mr. Stephen Scott; Pengarah Bahagian Sokongan Keluarga, Puan Maria binti Jilani dan Ketua Penolong Pengarah Bahagian Sokongan Keluarga, Puan Maimun binti Mohd.
UNIT KOMUNIKASI KORPORAT
JABATAN KEHAKIMAN SYARIAH MALAYSIA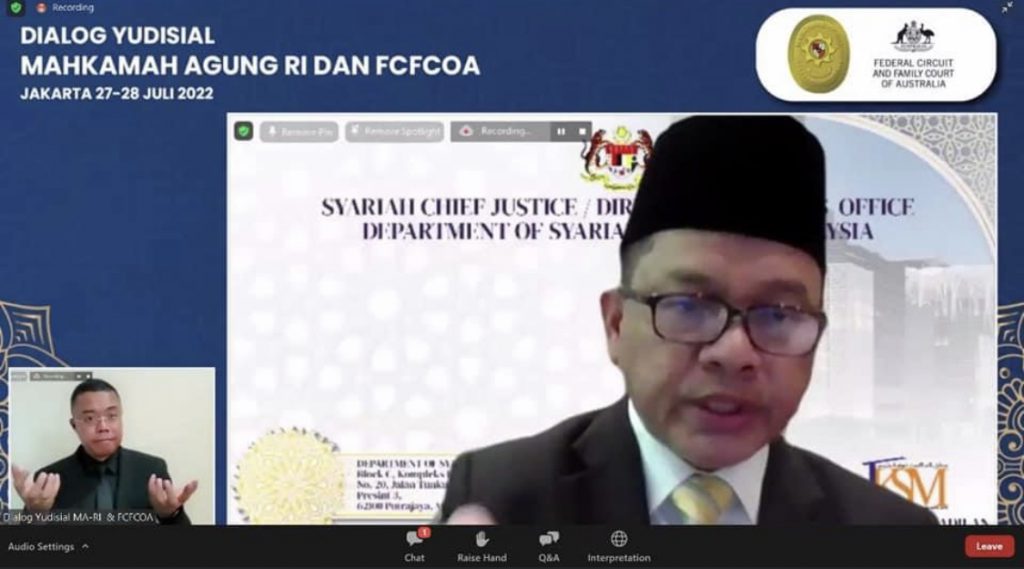 Last Updated on July 28, 2022