PUTRAJAYA, 5 OKT. 2022 | Jabatan Kehakiman Syariah Malaysia (JKSM) buat julung kalinya menganjurkan program Minda Pakar- Overview on an Arbitration: Theory and Practice dengan berjaya menghimpunkan pengamal undang-undang di Mahkamah Syariah dan Sivil.
Program ini dikendalikan oleh arbitrator, iaitu Prof. Datuk Dr. Hamid Sultan bin Abu Backer yang merupakan pengasas _Affordable Arbitrator- Alternative Dispute Resolution (AA-ADR),_ yang juga mantan Hakim Mahkamah Rayuan. Kini beliau merupakan _profesor for arbitration and alternative dispute resolution_ di Universiti MAHSA.
"Arbitrasi bukanlah suatu istilah asing dalam Islam. Menerusi ayat 35, surah _Al-Nisa',_ Allah SWT telah menerangkan peranan hakam sebagai satu kaedah penyelesaian pertikaian," kata YAA Dato Setia Dr. Hj Mohd. Na'im Mokhtar, Ketua Pengarah/Ketua Hakim Syarii, JKSM ketika merasmikan program tersebut.
Arbitrasi merupakan salah satu kaedah penyelesaian di luar ruang lingkup litigasi. Perlaksanaannya secara tertutup, dengan ciri-ciri khasnya yang menggalakkkan perbincangan, mampu menyelesaikan kes dalam tempoh yang lebih singkat serta mengurangkan perseteruan.
Di Mahkamah Syariah, konsep hakam hanya diaplikasikan menerusi seksyen 48, Undang-undang Keluarga Islam, iaitu apabila berlaku syiqaq bagi permohonan perceraian.
"Statistik sepanjang 2015 hingga 2019 menunjukkan terdapat 306,454 kes pembubaran perkahwinan. Daripada pola pemfailan kes tersebut didapati bahawa berlaku peningkatan pemfailan kes perceraian menerusi kaedah hakam dengan peratusan sebanyak 49%, berbanding tujuh jenis pembubaran perkahwinan lainnya seperti taklik, fasakh, pengesahan talak, khuluk, li'an, anggapan kematian dan pertukaran agama yang menggunakan kaedah litigasi yang secara kumulatifnya mewakili 51%," ujar YAA Dato Setia Dr. Mohd Naim lagi.
Ini membuktikan bahawa terdapat peralihan pola pembubaran perkahwinan daripada proses litigasi kepada pelaksanaan hakam. Walaubagaimanapun, kaedah hakam perlu ditambahbaik dan diperkasa menerusi penerokaan undang-undang sivil, prosedur dan keselariannya dengan hukum syara'.
Pelaksanaan di Mahkamah Syariah ini berbeza dengan pengaplikasian konsep _arbitration_/hakam di Mahkamah Sivil yang digunakan secara meluas, merangkumi perkara berkaitan kekeluargaan, pertikaian sivil malah melibatkan konflik antara negara.
Begitu juga konsep hakam di Mahkamah Sivil ini dipandu dengan pemakaian _Arbitration Act 2005_ bagi menyelaras dan membentuk kesepaduan dalam pelaksanaannya.
Walaupun terdapat kelainan antara pelaksanaan Majlis Tahkim di Mahkamah Syariah dengan kaedah pengoperasiannya di Mahkamah Sivil, namun JKSM percaya terdapat teori dan prosedur pelaksanaannya yang boleh diharmonikan dan diadaptasi di Mahkamah Syariah.
Justeru, program Minda Pakar- _Overview on an Arbitration: Theory and Practice_ ini diharapkan dapat mencapai matlamat untuk membuka dimensi baharu kepada pegawai syariah terhadap pelaksanaan arbitrasi di Mahkamah Sivil, di samping meneliti ruang alternatif bagi penyelesaian isu-isu yang melibatkan kedua-dua sistem kehakiman tersebut.
Untuk rekod, selain pegawai syariah dan pengamal undang-undang sivil, majlis ini turut dihadiri oleh ahli akademik, wakil kedutaan, Kor Agama Angkatan Tentera (KAGAT), wakil dari _Current Law Journal_ dan Universiti MAHSA.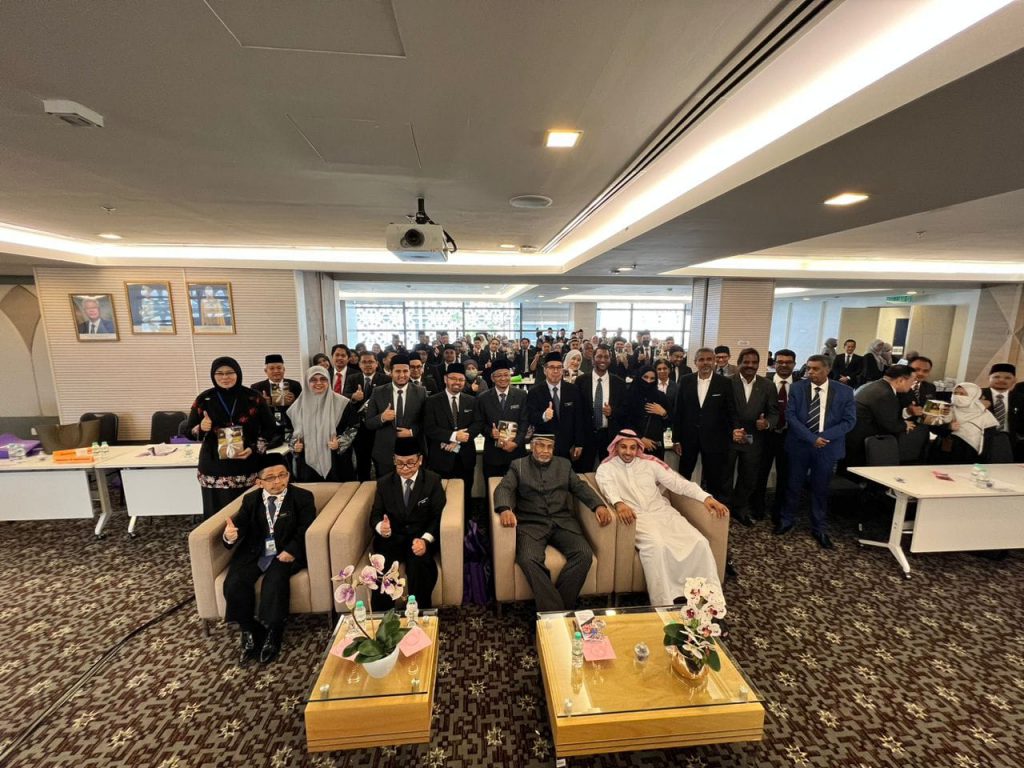 Last Updated on October 5, 2022