Putrajaya, 22 September 2022| YAA Dato' Setia Dr. Haji Mohd Na'im bin Haji Mokhtar, Ketua Pengarah/Ketua Hakim Syarii JKSM telah dijemput bagi menyampaikan ucaptama di Persidangan Antarabangsa Kelestarian Insan Kali ke-7 2022 (INSAN 7) anjuran Universiti Tun Hussein Onn Malaysia.
Ucaptama yang bertajuk _Empowerment of Syariah Judiciary Institution in Facing the Pandemic with New Norms_ mengetengahkan cabaran dan mekanisme yang diambil oleh JKSM ketika menghadapi cabaran Covid-19.
"Lapan bulan pertama sepanjang negara dilanda Covid-19 merupakan suatu tempoh yang agak sukar. Walaubagaimanapun, berkat iltizam dan komitmen semua penggerak institusi kehakiman syariah, maka sistem penyampaian perkhidmatan dapat diteruskan dengan baik dan lebih efisyen."
"Sebenarnya pandemik ini bukan hanya memberi impak terhadap sosio-politik, namun hikmahnya ia membentuk institusi kehakiman syariah untuk menjadi lebih kreatif, berinovasi, produktif dan kekal relevan," ucap YAA Dato Setia Dr. Mohd Na'im Mokhtar.
"Pelbagai inovasi baharu diterokai oleh JKSM dan Mahkamah Syariah seluruh Malaysia termasuklah pengaplikasian sistem teknologi maklumat bagi pendaftaran, sidang mediasi/sulh serta pengendalian kes Mahkamah. Malah bagi mengelakkan penangguhan penyelesaian kes, pendengaran juga dilakukan pada waktu malam. Dalam masa yang sama, kerjasama melibatkan negara Nusantara dan di peringkat antarabangsa dipereratkan lagi menerusi aplikasi teknologi jarak jauh," tambah beliau lagi.
Rentetan daripada amalan sepanjang pandemik tersebut, JKSM telah berjaya menyediakan Rang Undang-undang (RUU) bagi akta/enakmen prosedur mal Mahkamah Syariah yang memperuntukkan mengenai penggunaan teknologi jarak jauh semasa pengendalian kes. Malah negeri Selangor merupakan negeri pertama yang mempelopori pindaan tersebut apabila diluluskan oleh Dewan Undangan Negeri (DUN) Julai lalu.
Di akhir ucaptama, YAA Dato Setia Dr. menegaskan, "Walaupun kita berada dalam fasa endemik dan masih memerangi Covid-19, namun situasi ini tidak akan menghentikan segala usaha penambahbaikan yang sedang dilakukan. Antara penambahbaikan tersebut termasuklah mewujudkan badan kehakiman syariah yang bebas, menjenamakan semula JKSM sebagai institusi yang menguruskan hal ehwal perundangan syariah, penubuhan Mahkamah Utama Syariah, penyeragaman Mahkamah Syariah, peningkatan kompetensi para pegawai dan sebagainya."
Untuk rekod, ucaptama bagi Persidangan INSAN 7 ini turut disampaikan oleh YBhg Datuk Dr. Maziah Che Yusoff, Ketua Setiausaha, Kementerian Pembangunan Wanita, Keluarga dan Masyarakat, YBrs. Prof. Ts. Dr. Ruzairi Abdul Rahim, Naib Canselor UTHM, YBrs. Dr. Faridah Awang, Pengarah Institut Sosial Malaysia (ISM), YBrs. Prof. Dr. Ova Emilia, Rektor Universiti Gadjah Mada, Indonesia, YBrs. Dr. Lutfan Jaes, Dekan Pusat Pengajian Umum dan Kokurikulum, UTHM dan YBrs. Dr. Muhammad Firdaus Abdul Manaf, Ahli Jawatankuasa Fatwa, Jabatan Mufti Negeri Sembilan.
*Kurator Berita,*
*Unit Komunikasi Korporat, JKSM.*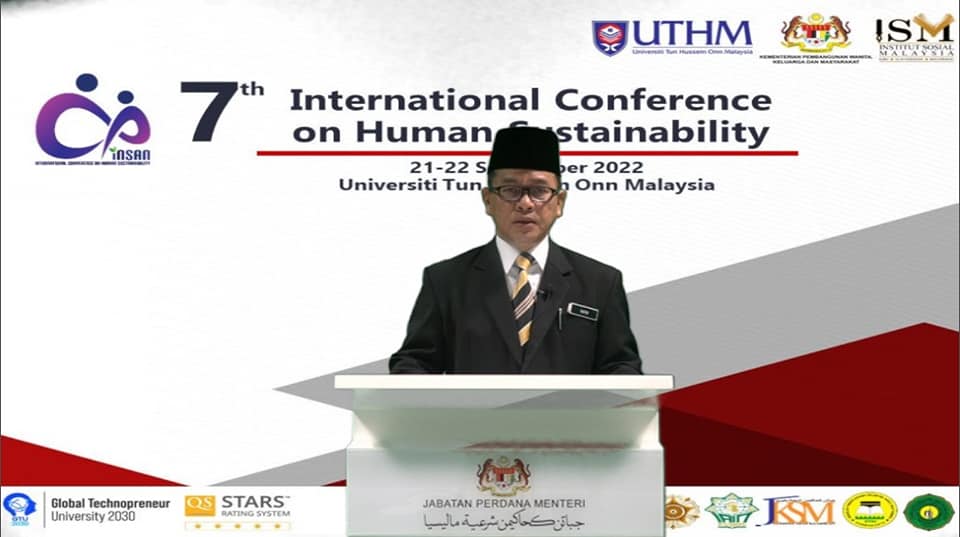 Last Updated on September 22, 2022