9 Disember 2020: YAA Dato' Dr. Hj. Mohd Na'im bin Hj. Mokhar, Ketua Pengarah/Ketua Hakim Syarie JKSM hari ini telah dijemput menyampaikan Syarahan Akademik di dalam Program FUHA Annual General Assembly 2020 melalui aplikasi atas talian Cisco Webex.
Tajuk syarahan yang disampaikan oleh YAA Dato' Dr. adalah "Application of Mediation in the Syariah Courts of Malaysia" yang mana ianya menyentuh secara mendalam perjalanan majlis Sulh di mahkamah syariah seluruh Malaysia.
Program anjuran Universiti Sultan Zainal Abidin (UniSZA) telah dihadiri oleh para pelajar UniSZA dan turut disiarkan secara langsung di Laman Facebook Rasmi UNiSZA.
Antara kandungan yang dikongsikan oleh YAA Dato' Dr. adalah sejarah penubuhan Majlis Sulh di Malaysia, jenis kes yang dibawa ke Majlis Sulh, statistik kes Sulh di Malaysia dan kepentingan proses sulh serta mediator kepada pihak-pihak yang bertikai.
YAA Dato' Dr. turut berkongsi tentang faktor-faktor yang mempengaruhi kejayaan dan kegagalan yang di bawa ke Majlis Sulh dan berbesar hati berkongsi Pelan Strategik Sulh (2021-2026).
Di akhir pembentangan YAA Dato' Dr turut melahirkan rasa bangga akan peranan dan sumbangan yang telah diberikan oleh Pegawai-Pegawai Sulh seluruh Malaysia dalam usaha menyelesaikan isu tunggakan kes di Mahkamah Syariah seluruh negara.
Turut hadir di dalam program ini adalah Prof.Dr. Zuhairah Ariff binti Abd.Ghadas (Dean of FUHA), Dr. Sharifah Nuridah Aishah binti Syed Nong Mohamad (Deputy Dean for Academic and Graduates), Dr. Suyatno (Deputy Dean for Students Affair & Alumni) dan Dr. Aminuddin bin Mustaffa (Deputy Dean for Research and Development).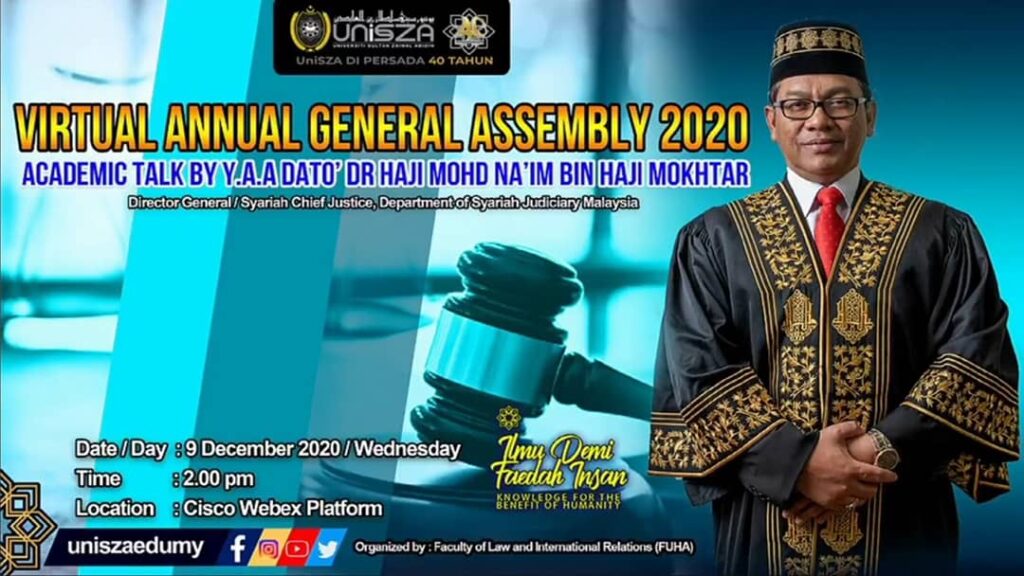 Last Updated on December 23, 2021