31 Mac 2022 | Jabatan Kehakiman Syariah Malaysia (JKSM) hari ini menerima lawatan daripada Delegasi Kedutaan dari 11 Negara Arab yang diketuai oleh Duta Yemen, H.E. Dr. Adel Mohammad Ali B.A Hamid.
Selain Duta Yemen, duta dan Charge De Affairs (CDA) lain yang turut serta adalah H.E Abukar Abdi Osman(Ambassador of Somalia), H.E. Thamer Abdalla Mohammad Adwan (Ambassador of Jordan), H.E. Walid Abu Ali(Ambassador of Palestine), H.E. Ragai Tawfik Nasr (Ambassador of Egypt), H.E. Saad Maandi (Ambassador of Algeria), Ms. Nagat M.S. Elforgani (CDA of Libya), Mr. Omar Bouchiar (CDA of Morocco),Mr. Omer Mahgoub Ahmed Oushek (CDA of Sudan), Mr. Rashid Salem Al-Buainain (Representative of Qatar), Mr. Abdullah Al-Qahtani (Representative of Saudi Arabia) danCik Puan Hadzlin Khan Manah (P.A to Yemen Ambassador).
Kehadiran duta-duta tersebut disambut oleh YAA Dato' Setia Dr. Hj. Mohd Na'im bin Hj. Mokhtar (Ketua Pengarah/Ketua Hakim Syarie JKSM), Hakim-hakim Mahkamah Rayuan Syariah JKSM, Ketua Pendaftar JKSM Ketua Hakim Syarie MSWP, Pengarah-pengarah Bahagian dan Ketua-ketua Unit JKSM.
Terdahulu, sesi lawatan dimulakan dengan ucapan aluan oleh YAA Dato' Setia Dr. yang merakamkan setinggi-tinggi penghargaan atas kesudian para delegasi kedutaan Arab hadir ke JKSM hari ini.
Menurut YAA Dato' Setia Dr., kunjungan ini merupakan satu penghormatan kepada JKSM dan Institusi Kehakiman di Malaysia dan beliau mengharapkan agar sesi lawatan ini dapat memberikan kefahaman yang lebih mendalam terhadap fungsi dan perkhidmatan yang ditawarkan oleh JKSM.
Majlis kemudian diteruskan dengan ucapan balas oleh Duta Yemen yang merupakan ketua delegasi sebelum diteruskan dengan sesi taklimat yang disampaikan oleh Tuan Ketua Pendaftar JKSM.
Alhamdulillah, sesi lawatan kali ini telah menghasilkan beberapa berita baik buat pegawai syariah di seluruh Malaysia antaranya persetujuan Duta dari Mesir dan Arab Saudi untuk membantu menghidupkan semula program latihan kepada pegawai-pegawai syariah yang terhenti disebabkan oleh Perintah Kawalan Pergerakan (PKP) sejak tahun 2020 yang lalu.
Duta-duta Arab yang lain turut menyatakan persetujuan untuk mengadakan perbincangan lanjut mengenai bagaimana mereka dapat membantu pegawai-pegawai Syariah dalam mendalami ilmu Kehakiman dan menguasai Bahasa Arab dengan kerjasama Akademi Kehakiman yang ada di negara mereka.
Selain itu, Duta Somalia dan Sudan turut menyuarakan hasrat mereka supaya pihak JKSM/JKSN/MSN membantu membangunkan Sistem Kehakiman Syariah di negara mereka selain persetujuan kesemua Duta-duta yang hadir untuk membina hubungan rapat antara JKSM/JKSN/MSN dengan badan Kehakiman dinegara mereka.
Untuk rekod, para delegasi turut di bawa menyaksikan prosiding perbicaraan kes hadhanah yang dikendalikan oleh YA Tuan Azzeman bin Omar di Dewan Mahkamah Tinggi Syariah Putrajaya sebelum bersurai tepat jam 12.45 tengahari.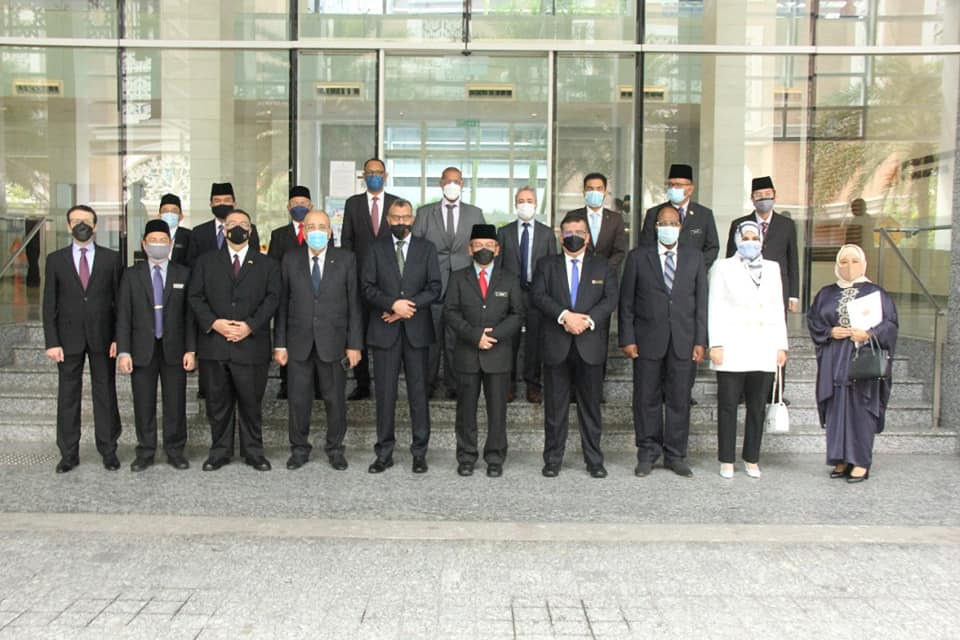 Last Updated on Mac 31, 2022