9 Mac 2022 | Mahkamah Syariah Wilayah Persekutuan Kuala Lumpur hari ini menerima lawatan daripada 14 duta dari Negara Eropah yang diketuai oleh Duta Belgium, HE Pascal Grégoire.
Kehadiran duta-duta tersebut disambut oleh YAA Dato' Setia Dr. Hj. Mohd Na'im bin Hj. Mokhtar (Ketua Pengarah/Ketua Hakim Syarie JKSM), YAA Tuan Mohd Asri bin Tahir (Ketua Hakim Syarie MSWP), Hakim-Hakim Syarie MSWP dan Ketua Pendaftar MSWP.
Sesi lawatan dimulakan dengan ucapan aluan oleh YAA Tuan Mohd Asri bin Haji Tahir sebelum diteruskan dengan ucapan YAA Dato' Setia Dr. yang merakamkan setinggi-tinggi penghargaan atas kesudian duta-duta Eropah hadir ke mahkamah syariah.
Menurut YAA Dato' Setia Dr., kunjungan ini merupakan satu penghormatan kepada Mahkamah Syariah Wilayah Persekutuan dan beliau mengharapkan agar sesi lawatan ini dapat memberikan kefahaman yang lebih mendalam terhadap fungsi dan perkhidmatan yang ditawarkan di sana.
Antara duta-duta yang hadir adalah HE Nineta Barbulescu (Ambassador of Romania), HE Morten Paulsen (Ambassador of Norway), HE Ivan Velimir Starcevic (Ambassador of Croatia), HE Roland Galharague (Ambassador of France), HE Peter Blomeyer (Ambassador of Germany), HE Sami Leino (Ambassador of Finland), HE José Miguel Lafuente (Ambassador of Spain), HE Andreas Launer (Ambassador of Austria), HE Dr Petra Ponevacs-Pana (Ambassador of Hungary), HE Michalis Rokas (Ambassador EUDEL), HE Dr. Joachim Bergström (Ambassador of Sweden), HE K, Debnicki (Ambassador of Poland) dan JR Tey (Legal and Economic Advisor Embassy of Belgium).
Kehadiran mereka hari ini adalah untuk melihat sendiri tatacara pengendalian kes-kes di mahkamah syariah selain mendapatkan maklumat terperinci berkaitan pengoperasian mahkamah syariah khususnya di Wilayah Persekutuan.
Sesi lawatan ini diisi dengan sesi lawatan ke galeri MSWP di aras 1 dan duta-duta tersebut turut berkesempatan menyaksikan prosiding perbicaraan kes hadhanah yang dikendalikan oleh Tuan Azzeman bin Omar di Dewan MTS 3.
Untuk rekod, YAA Dato' Setia Dr. pernah memberikan taklimat berkaitan Sistem Perundangan Syariah di Malaysia kepada duta-duta Negara Eropah berkenaan semasa satu majlis hi- tea yang diadakan di Kedutaan Belgium pada 7 Februari 2022 yang lepas.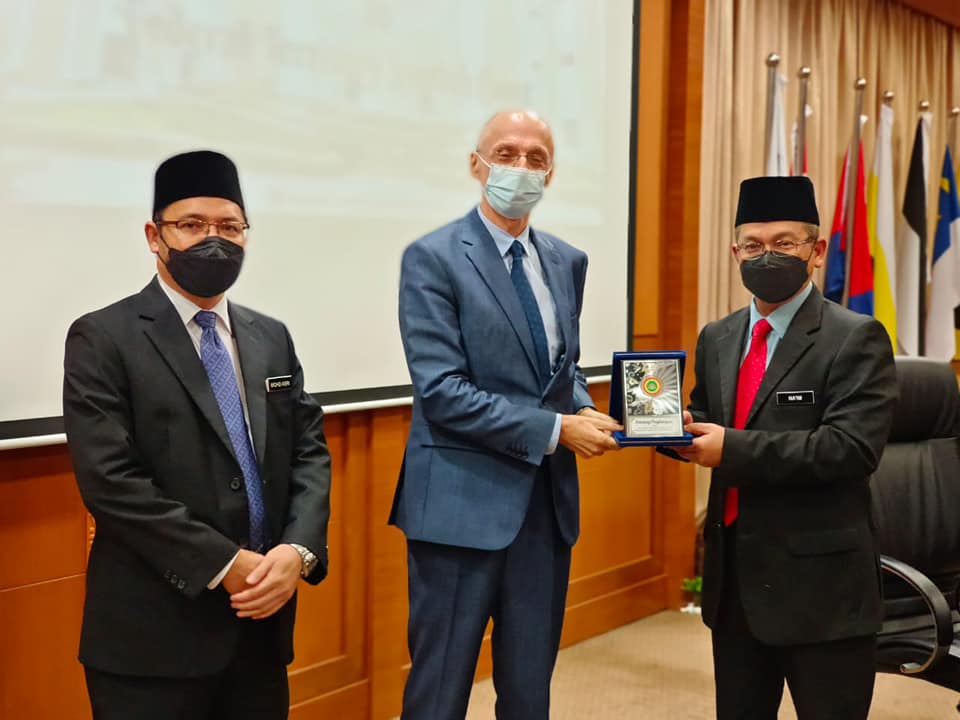 Last Updated on Mac 9, 2022