Selasa, 9 Ogos 2022- YAA Dato' Setia Dr. Hj. Mohd Na'im Mokhtar, Ketua Pengarah/Ketua Hakim Syarii Malaysia diberi penghormatan untuk menyampaikan ucaptama bagi Persidangan dan Pameran Antarabangsa Manuskrip Melayu (PPAMM) 2022 yang bertemakan "Manuskrip Perundangan Melayu: Korpus Warisan Tempatan dan Dunia".
YAA Dato Setia Dr. Mohd. Na'im ketika menyampaikan ucaptama menyatakan, "Hukum Kanun Melaka (HKM) bukan sahaja mentaqninkan mengenai kuasa, bidang kuasa raja dan pembesar-pembesar, pantang-larang masyarakat umum, hukuman ke atas kesalahan jenayah hudud, qisas, takzir, undang-undang keterangan dan undang-undang keluarga, bahkan diperkukuhkan lagi menerusi prinsip undang-undang dan sistem politiknya. Tafsiran konsep kedaulatan amat penting kerana ia menentukan dasar-dasar yang sah bagi sebuah kerajaan merdeka."
"Sesungguhnya pelaksanaan Hukum Kanun Melaka ini juga membuktikan komitmen pemerintah dalam memastikan agama Islam sebagai agama rasmi dilaksanakan secara optimum, menzahirkan kebijaksanaan pemerintah yang berusaha mengelakkan perpecahan dalam keragaman masyarakat, dengan menjadikan mazhab Shafii sebagai rujukan utama bagi dasar set perundangan tersebut. Malah, saking seriusnya para pemerintah terhadap pelaksanaannya, sehinggakan undang-undang Islam berkenaan ditadbir dari dalam istana," tambah beliau lagi.
YAA Dato Setia Dr. juga mengetengahkan beberapa isu dan cabaran dalam usaha pemerkasaan manuskrip Melayu dan berharap usaha murni ini diteruskan secara bersinergi agar manuskrip-manuskrip Melayu tidak berhujung dan berakhir di bilik-bilik pameran. Malah JKSM berbesar hati mengalu-alukan sebarang kerjasama penyelidikan ke atas manuskrip-manuskrip Melayu, khususnya manuskrip yang melibatkan perundangan dan kehakiman.
"JKSM juga merancang untuk menaik taraf Pusat Sumber Maklumat JKSM sebagai hab maklumat utama perundangan syariah di Malaysia, di samping menambahbaik Galeri Kehakiman sejajar dengan peranan JKSM yang merupakan agensi penyelaras kehakiman dan perundangan syariah di peringkat persekutuan," tegas beliau.
Di akhir ucapannya, beliau menyatakan, "Saya berharap agar matlamat jangka pendek PNM untuk memperolehi pengiktirafan _UNESCO Memory of the World Programme_ bagi manuskrip Melayu terutamanya Hukum Kanun Melaka akan tercapai. Dan semoga usaha 'penggalian' manuskrip ini mampu memperkasa sistem perundangan dan kehakiman Islam di negara ini."
Turut hadir semasa sesi perasmian dan ucaptama tersebut ialah YBrs. Encik Mohd Yusri bin Mohd Yusoff, Timbalan Ketua Setiausaha (Kebudayaan) Kementerian Pelancongan, Seni dan Budaya (MOTAC), YBrs. Puan Sri Datuk Seri Rohani Parkash binti Abdullah, Pengerusi Lembaga Pengarah UPSI, YBrs. Prof. Dato' Dr. Md. Amin bin Md. Taff, Naib Canselor UPSI serta YBrs. Puan Salasiah binti Abdul Wahab, Ketua Pengarah Perpustakaan Negara Malaysia.
Untuk rekod, Persidangan yang menghimpunkan 23 orang pakar manuskrip Melayu dari dalam dan luar negara akan berwacana dalam lapan sesi pembentangan sepanjang 9 hingga 11 Ogos 2022.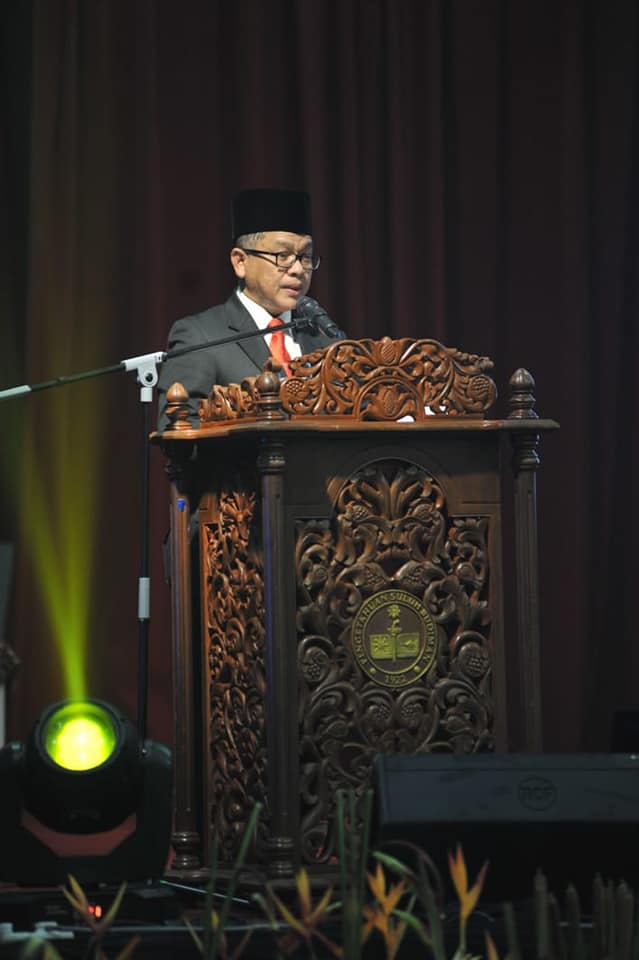 Last Updated on August 10, 2022