20 JULAI 2022 (RABU) – Satu mesyuarat bagi membincangkan pelaksanaan perintah hiwalah ke atas institusi perbankan di antara Jabatan Kehakiman Syariah Malaysia (JKSM), Bank Negara Malaysia (BNM) dan wakil daripada Association of Banks in Malaysia (ABM), Association of Islamic Banking and Financial Institutions Malaysia (AIBIM) serta wakil industri telah diadakan secara dalam talian.
Mesyuarat telah dipengerusikan oleh YBhg. Penolong Gabenor, Dr. Norhana binti Endut turut disertai oleh delegasi dari JKSM yang diketuai oleh YAA Dato' Setia Dr. Haji Mohd Na'im bin Haji Mokhtar. Mesyurat telah membincangkan beberapa persoalan yang berbangkit daripada pindaan perintah Akta Perkhidmatan Kewangan 2013, Akta Perkhidmatan Kewangan Islam 2013 dan Akta Institusi Kewangan Pembangunan 2002 yang telah mengiktiraf perintah hiwalah yang dikeluarkan oleh Mahkamah Syariah serta kaedah pelaksanaan selaras dengan undang-undang yang sedang berkuat kuasa.
Semoga pelaksanaan hiwalah ini akan dapat membantu pihak-pihak yang dinafikan hak mereka terutamanya para ibu tunggal dan anak-anak yang teraniaya akibat daripada perintah nafkah yang diabaikan selaras dengan saranan YAB Perdana Menteri Malaysia dalam usaha memartabatkan wanita melalui inisiatif-inisiatif yang diperkenalkan oleh Kerajaan.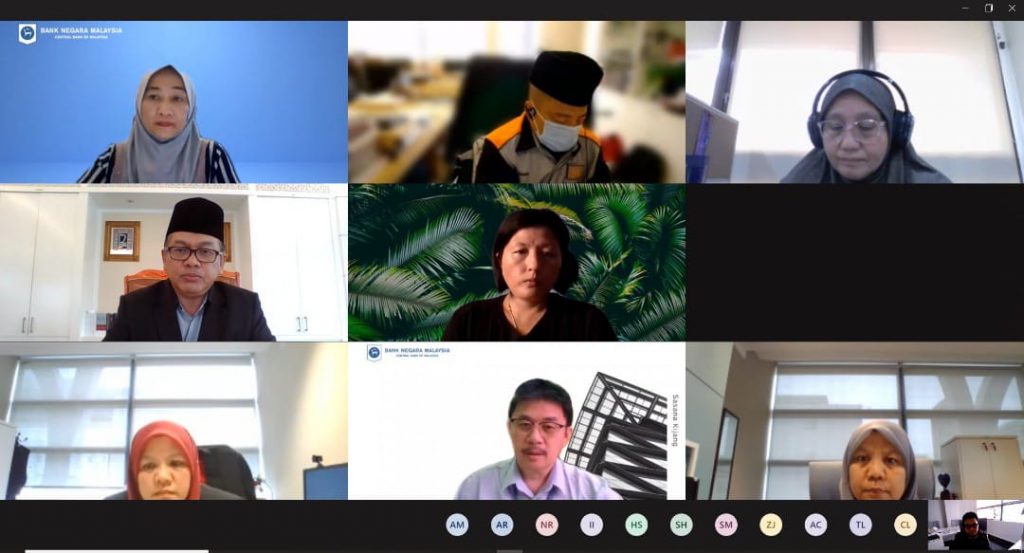 Last Updated on Julai 21, 2022